"The first Navy Veterans' Organization created on, and for, the World Wide Web."


Founder Edward C. Reese, NCCS, USN, Retired
Currently serving as a
Master Chief
New York Naval Guard



Ben Pasgenski

Plank Owner

and life member in good standing


NAVetsUSA

Benjamin C Pasgenski

Deceased 14 Jan 2008
BM2, USN
248 Barmont Drive
Rochester, NY 14626
bpasgen@intergate.com
Ben Pasgenski, BM2, USS Iowa BB611 was born July 18, 1920 in Schenectady, NY. At the age of 22. He enlisted in the US Navy on August 5th, 1942 and trained at Navy Training Station Great Lakes boot camp. He was then ordered to NTS Diesel in Cleveland, Ohio as Ships Company Guard Duty. On February 21st, 1943 Ben was ordered to the USS Iowa. While on the Iowa Pasgenski was a guard on the deck for President Roosevelt and was ordered to keep all personnel out. At that time, he was in watch I-7 Division from January 1944 until September 1945 in all battles except Iwo Jima. He spent 3 years and 10 months on the Iowa and then was discharged on December 1946.
BM2 Pasgenski has medals for Asiatic Pacific Battle Stars, Philippine Liberty Battle Stars, Occupational Service Asia with Clasp, American Campaign, Good Conduct, WWII Victory and Philippine Pres. Citation Ribbon.
Ben married Jane in 1947. They have a daughter JoAnn born in 1950, granddaughter Jennifer, born in 1970 and grandson Cliff born in 1974. He was employed by General Motors from November 26th, 1946 until retiring April 1st, 1981. Ben and family reside in Rochester, NY.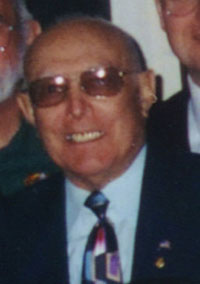 Greece, NY: On January 14, 2008, age 87. He is survived by his beloved wife of 60 years, Jane V.; 1 daughter, JoAnn (Jack) Langdon; 3 grandchildren, Jennifer (Christopher) Vitale, Clifford (Michelle) Matthews, Tonia Langdon; 4 great-grandchildren, Joelle, Adriana, Lauren, Gabrielle; several nieces & nephews. Combat Veteran of U.S. Navy (USS Iowa) WW II. Retiree of Delco Products. Life member of Navy Club of Lake Ontario Ship #1812 and Life Member of VFW. Friends may call at ARNDT FUNERAL HOME, 1118 Long Pond (S. of Maiden Lane) on Wednesday 4-8 P.M. Everyone will meet on Thursday 9:30 AM at St. John the Evangelist Church (Ridge Rd. W.) for Funeral Mass. Interment Holy Sepulchre Cemetery. Contributions to the American Heart Assoc.
---


Join now if you want your own Plank Owners Home Page at NAVetsUSA
Get your "Navy Veteran of the United States of America" Business Cards, Ball Cap and more
---
Who We Are
How to Join
Members Page
HomePage Index
Navy News
Naval HistoryShip
Locator
LinksFeedback
CreditsNAVetsUSA
Events
---
Send comments to navetsusa@earthlink.net
Founded by Edward C. Reese, NCCS, USN Retired
Updated daily