"The first Navy Veterans' Organization created on, and for, the World Wide Web."

USN, Retired





Life Member, Plank Owner

NAVetsUSA


buck@kerrlake.com

C.E. "Buck" Shell

RMC, USN, Ret.
1520 LAKECREST COURT
ROANOKE, VIRGINIA 24018
Cell 305 923-7901
FIRST LICENSED AS WN4AXH IN MARCH OF 1953, WHILE STILL IN THE U.S.NAVY AS A RADIOMAN.- GRADUATED FROM DANVILLE TECHNICAL INSTITUTE. DEGREE IN ELECTRONICS. F.C.C. LICENSE= FIRST CLASS RADIOTELEPHONE--,(NOW GENERAL RADIOTELEPHONE LICENSE) LIFETIME LICENSE-- AMATEUR EXTRA CLASS AS W4AXH---- RETIRED FROM FEDERAL AVIATION. ADMINISTRATION AS AN ELECTRONIC TECHNICIAN. RETIRED US NAVY RADIOMAN. RETIRED FROM RURAL ELECTRIC CO-OPERATIVE AS RADIO AND MICROWAVE COMMUNICATION SPECIALIST... MEMBER OF VIRGINIA FONE NET, NUMBER 25, --- INTERNATIONAL DX ASSOCIATION.--- MEMBER OF INTERNATIONAL ASSOCIATION OF AIRLINE HAMS, --- THE OLD OLD TIMER CLUB MEMBER NUMBER 3190. I STILL ENJOY HAM RADIO NOW AS MUCH AS I DID BACK IN THE 1950'S.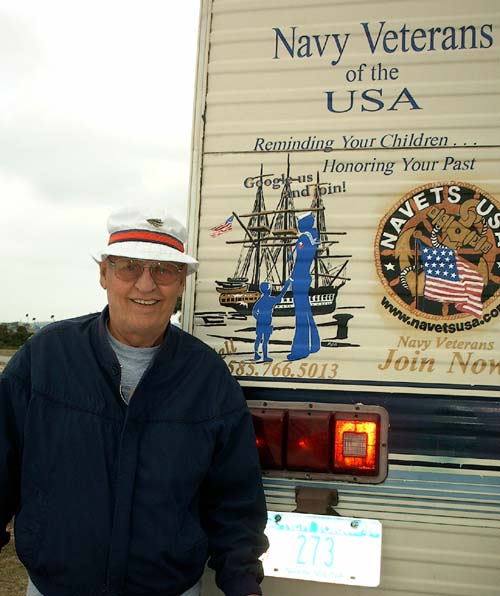 Buck standing by the NAVetsUSA "recruit mobile"
while RVing at Naval Station, Mayport

---
Who We Are
How to Join
Members Page
HomePage Index
Navy News
Naval History
Ship Locator
Links
Feedback
Credits
NAVetsUSA Events
---
Send comments to navetsusa@earthlink.net
Sign Our Ship's Log

View Our Ship's Log
---
First updated 24 July 1998
Last updated 18 November 2005
Founded by Edward C. Reese, NCCS, USN Retired