"The first Navy Veterans' Organization created on, and for, the World Wide Web."

navy,veteran,usn,find,shipm

WILLIAM R. NOWADNICK

Deceased


Colonel, USMC, Retired


Honoring your past . . . Reminding your children

The Navy Biography Site

Life Member & Plank Owner

Navy Veterans of the USA

William R. Nowadnick

Colonel, USMC
Retired

1015.1 Heather Circle
Mt Vernon, Washington 98273
Phone 360 840-1306

Veterans Day 2012
Movie Clip of Colonel Bill
1921 DIED 2020
Nowadnick, William Robert (Bill) Passed peacefully from this earth on Friday, 28 August after a long and well-lived life of 99 years. He was born 15 May, 1921 to William and Hermine Nowadnick in Chehalis, WA.
He attended Washington State leaving at the end of his junior year to join the Marine Corps in 1943. Bill was a fighter pilot during his 31 year military career. He flew just about every fixed wing aircraft the Corps had over those years. He served in the Pacific during WWII, Korea in the early 50's and then Vietnam.
He loved all his years of service, but considered his tour as a squadron commander in Japan in the late 50's and his tour as a Marine Air Group commander in the early 70's as personal highlights.
Following a life of serving in many duty stations around the country and the world and achieving the rank of colonel, Bill retired to Virginia and later to Mount Vernon, WA where he reunited with his brother's family, made many new friends and enjoyed his Kiwanis service.
He also enjoyed spending the winter months in Key West, FL with many more friends. Always a sun lover, in his last few years he moved full time to Florida.
Bill was preceded in death by Doris, his wife of over 50 years, his son Robert (a career U.S. Army officer & helicopter pilot) and his sister-in-law Jean and brother Richard (Dick) who taught at Skagit Valley College.
He is survived by his wife Anna Maria, his daughter and son-in-law Ann and John Murray(Col, USMC Ret), daughter-in-law Janice Nowadnick, five grand children including 3 career military members, 11 great-grand children and several nieces and nephews.
Following a memorial service in Florida, Col William R Nowadnick will be interred with his wife Doris at the National Military Cemetery in Quantico, Virginia. Bill loved life, his family and many friends, and to the very end he was always a proud Marine. He will be greatly missed by all.

WILLIAM R. NOWADNICK
MARINE CORPS
For service as set forth in the following:
CITATION:
William R. Nowadnick (MCSN: 0-21941), United States Marine Corps, was awarded the Distinguished Flying Cross for heroism and extraordinary achievement while participating in aerial flight, in actions against enemy Japanese forces in the Pacific Theater of Operations during World War II.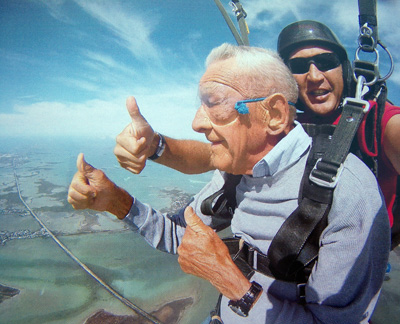 Aviator returns to skies and jumps
90-year-old veteran of three wars relives adventures
BY JOHN DeSANTIS Citizen Staff
jdesantis@keysnews.com
Bill Nowadnick gazed through plastic goggles at the outline of Florida's Keys 10,500 feet below him, plummeting at a rate of 120 mph for half that distance, before the red, oblong parachute broke his earthbound fall to a mere 20 mph, allowing a gentle terra firma touchdown.
"I was amazed," said Nowadnick, who at the age of 90 is the oldest guest Skydive Key West has ever had jump from one of its Cessna planes. "I could see every detail of Boca Chica, and through the haze I could see Key West."
The Thursday jump, something Nowadnick chalked up as a "bucket list" item, was special for reasons other than his age, especially to the trainer who took the jump with him.
Nowadnick is a Marine Corps veteran of three wars who left the service with the rank of colonel. The last time he was in a parachute harness the United States was at war, in 1942, and he was training to become a fighter pilot, a goal he achieved and says was the experience of a lifetime.
A camper at Key West's Trumbo Point is Nowadnick's home during the months he stays in this warmer clime, before heading back to Washington state, where he lives the rest of the year.
As for the jump, according to instructor Bertus Geldenhuys, who was harnessed to Nowadnick the whole while, things couldn't have gone better.
"That was spectacular," Geldenhuys said. "I have been sky diving for 20 years and I have close to 9,000 jumps. At first I was really nervous. I gave him a couple of exercises to do on the ground and he is in better shape than some people I know in their 50s. We went up, he was calm, he was cool and he loved it.
"For me it was a great honor to take that gentleman on a sky dive. He is the oldest person I have ever had and he is a World War II veteran."
Geldenhuys' grandfather, the late Lambertus Viljoen, fought in World War II as well, for the British Army as a South African recruit. Viljoen also was a veteran of the South African war with Angola.
Nowadnick was flying missions over the South Pacific in 1942 as a second lieutenant, providing cover and support for U.S. troops on the region's islands who were fiercely locked in combat with Japan, as well as for Navy ships patrolling the area.
Nowadnick was awarded the Distinguished Flying Cross for heroism and extraordinary achievement, according to military records, for flight actions against the Japanese.
His initial choice wasn't the military. As a young man Nowadnick ventured to the Anaconda copper mines, but he didn't care for the atmosphere.
"It was hot and not much fresh air," he said. "They dropped us down 1,000 feet; there was sulfuric acid dripping on our clothes and in two weeks you had to buy new ones. That wasn't a way to make a living."
So instead, with the world at war, he hitchhiked back to Washington and signed up with the Navy.
"I had signed up for naval aviation because the Marines and Navy both flew the same aircraft," Nowadnick said. Assignment to the Marines came later.
Once deployed, he escorted bombers. Then, flying over Guam, he directly engaged the Japanese.
"When you are fighting like that you are not fighting against a person, you are fighting against an airplane," he said. "And if you don't think you're the best in the world you should not be doing that. I got shot at too. But I was lucky. The ones who were shot down weren't lucky."
It was between World War II and the Korean War that Nowadnick met John Glenn, who later would be a pioneering astronaut. The two remained in touch over the years.
"That was in a training command," Nowadnick said. "I was an instructor in an advanced instructors course. I haven't talked to him in a long time. But we did get together. Later we went to Italy, to Vesuvius, with a big escort because he was a big wheel. I don't think he ever had any enemies. A lot of people thought he was going to be commandant of the Marine Corps."
During the Korean War, Nowadnick's exploits included flying with the Nationalist Chinese with a squadron of FJ-4 fighters. He was part of a team that escorted Madame Chiang Kai-Shek.
During the Vietnam War he was a division air officer, flying little spotting planes that marked targets with smoke bombs.
His son, Robert, was an airman who flew in the Vietnam War and was shot down in a helicopter several times, according to friends, but survived. He died in 1996.
A good friend who also stays in Key West during the winter months is also a Vietnam veteran.
Bill Brooks, who has known Nowadnick for more than 18 years, is a mere youngster by comparison, at the age of 68.
Brooks, an Air Force aviator for more than 20 years, describes his friend as "extraordinary."
He is amazed at some of Nowadnick's exploits, including a nationwide cycling trek in Holland. But nothing amazed him more than last week's sky dive, which he witnessed from the ground.
"I thought he was crazy," Brooks said. "It wouldn't take someone that age to break a leg or a hip, and if you do, you're in deep trouble."
Nowadnick has embraced the memories of his flying years, and says that for as long as he was a Marine he never worked a day in his life, such was the enjoyment he got from his duties. When people thank him for his years of military service, Nowadnick says they shouldn't.
"I should thank you," he said. "You have been paying for me. I retired a little over 39 years now. I have been paid well. The people that need the thanks are the kids who have fought that last couple of wars."
As for the sky diving experience, Nowadnick said it was enjoyable enough to repeat.
"I might try it again when I am 100," he said.
jdesantis@keysnews.com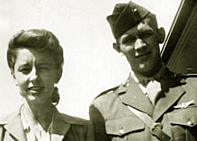 Doris and Bill Nowadnick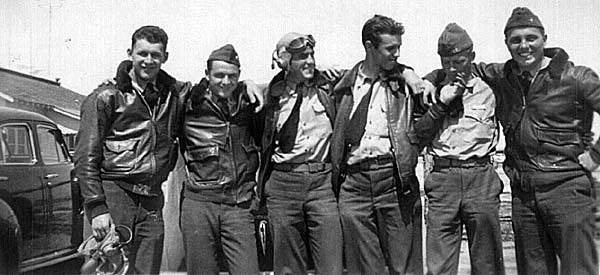 Nowadnick, Prejean, Rogers (flight instructor), Kelley, Smith, Kemper
Happy Cadets -
On May 21, 1943, having completed their final requirements for graduation from flight training, the exuberance of these cadets is clearly evident.
After so many months of grueling training, they are ready to make their long awaited transition from Cadet to 2nd Lieutenant!
Bill Nowadnick remembers:
"I knew Guy very well. We were in the same flight together at Kingsville. We had six in our flight and, when training, a flight of four would fly and then they'd rotate the group of six so the rest would fly. We flew formation, gunnery flying, and a little bit of dogfighting in the SNJ. Delesdernier (not in the photos) was also a member of our flight. He was later lost in combat.
Guy and I were the only two Marines and the others were Navy. After we finished flight training, we actually didn't graduate on the 1st of April, our date of rank. We finished about a month before we graduated. They lost our orders and apparently they fouled up on our flight because the Navy people waited about two weeks before they graduated and then Guy and I had to wait another couple of weeks before our orders came. I think we graduated around the 13th. We had roomates and when the roomates left they normally left their Navy cadet hat (the one with a quarter inch gold braid) and we had a stack of hats I think that went from the floor almost up to the ceiling because we'd get a roomate for two days and then they'd leave. So we spent quite a bit of extra time in Corpus. We had open gate liberty practically the whole time.
Guy was one of the more mature individuals. He was more serious, I guess, and of deeper thoughts. He was sort of a stabilizing influence on the whole darn flight."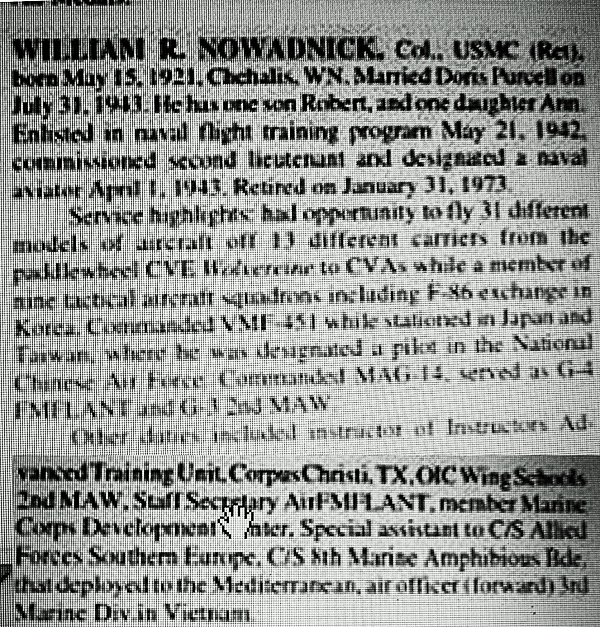 ---


Who We Are
How to Join
Members Page
HomePage Index
Navy News
Naval History
Ship Locator
Links
Feedback
Credits
NAVetsUSA Events
---
Send comments to navetsusa@earthlink.net

---
Founded by Edward C. Reese, USN Retired
Honoring your past . . . Reminding your children... Your Navy Biography Site