"The first Navy Veterans' Organization created on, and for,

the World Wide Web."


Life Member


Mirror Site with more good

information click on my name
James R. Santos

The photo above was taken, as I recall, on board one of those covered Coaxain's Boats (1969, as TM2(SS), USNR).

This was just after i had completed a week end working in the Torpedo Shop on the Sub Tender USS Sperry or USS Nereus.

Another Reservist from my Submarine Reserve Unit, TM2(SS) Ruiz. I believe, snapped this photo. He was a photographer by trade, as I recall.

He took the photo as we were returning to shore from the tender, which was moored out in the water at Fort Roscans, Ballast Point Submarine Base, San Diego, California.

Navy Veterans
of the

United States of America

Plank Owner

LIFE MEMBER

in good standing

James R. Santos
Senior Chief
USCGR, Ret
Mirror Site with more good
information is at http://diodon349.com/Stories/jsantos.html
saintjim@earthlink.net

US Submarine Reserve 6/1965 to 6/1971


TM
Torpedoman's Mate

SR, SA, SN, SN(SG), TMSN(SG), TMSN(SS), TM3(SS) to TM2(SS)

US Coast Guard Reserve 10/02/78 to 01/01/97
PS3, PS2, PS1, PSC, PSCS

My Navy & Coast Guard Reserves Service Ranks, Rates & Years
U.S.S. Diodon (SS 349) - 1967 thru 1968
Came aboard about end of Jan. '67 as TMSN(SG), graduate of TM "A" school, and Reserve Submarine School. Worked through quals as Deck Force in port, lookout, diving planes & helm underway. Went to WestPac, and got to Hong Kong. On the way back to Japan, we had fire on board in the middle of a storm at sea, stranded 3 days before being towed back to Yokosuka, Japan.
I remember my oral exam in the back of the Forward Torpedo Room while on patrol. I aced the exam by describing how each of a drop of oil and a drop of water could be moved through the boat this way and that.
I qualified in Aug. '67 and remember while I was sitting as Tubes Aft watch while diving that we hit something and did an emergency surface during maneuvers off of Okinawa with the Japanese Fleet.
Went back to Yokosuka for repairs. I remember having to clean out the rotting sea growth throughout the superstructure on our return to San Diego. Remember that we almost blew ourselves up in an incident under topside decking near the Forward Torpedo Room escape trunk when painting the boat. Remember that we painted the entire sub a grand looking black, and had to repaint it Navy Gray!
Served as Team Leader of Survey Team during sub's overhaul. Went out of the ship yard at Mare Island on our test dive to test depth, the deepest I had been while on board.
We went back to local ops out of San Diego and then up to Vancouver, B.C. where I spent 3 days liberty in that fine town. Left Diodon on about Oct. 2, 1968.
Now I am the creator and webmaster of the boat's home page: http://www.diodon349.com/
Enlistd in USCGR in Oct 1978 as Port Securityman 3rd Class and came out on 1/1/97 as Senior Chief Port Securityman.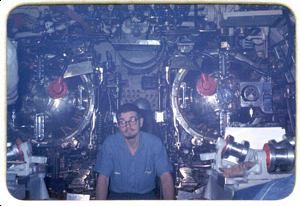 Well, here I am in USS Diodon (SS-349) Tubes Aft, but photographer caught me at the wrong time, with my eyes just blinked closed!
This is in the After Torpedo Room while submerged on our 55 day patrol. You can see the War Shot signs on the torpedo tube doors. This indicates that a live warhead is attached to the torpedo in each tube.
Well, we had to periodically draw each torpedo from its tube during the patrol, to check the mechanics and to re-coat the exterior of the torpedo, if needed. Then, we had to return it to its tube.

This is in the After Torpedo Room while submerged on our 55 day patrol. I was assigned to be the Small Arms Petty Officer.
As such, I worked on .45 M1911A1 semiautomatic pistols and .45 Thompson submachine guns.
A .45 pistol is disassembled on the table. I had just taken it apart and cleaned it.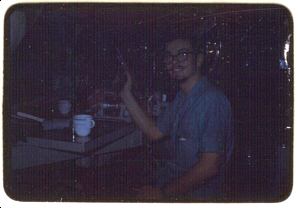 Here I am in Tubes Aft, again, having put together the Colt 45 pistol in the previous photo, after reassembling it.
This is in the After Torpedo Room while submerged on our 55 day patrol. The duties I did here helped pass time away after I qualified for my Dolphins.
Before that, most of my free time was spent tracing out each oil, water, ballast sea water, and fuel drop throughout the submarine, as well as tracing each electron, and qualifying on each piece of equipment, each duty for each station for surfacing and submerging, etc.
This photo shows the bow section of the Diodon. Note the teak decking. Behind me, to the left is the in-port guard railing for the Escape Trunk access to the Forward Torpedo Room. Behind me, the right, is the emergency buoy, used to mark the location of a sunken submarine.
However, on WestPac tours, the forward buoy, and the after buoy, near the After Torpedo Room were welded in place. This was to prevent them from floating to the surface and marking our position, if we were to be depth-charged.
Just to the left of my feet you can see the safety rail, used at sea for deck crew to tie them selves to when it was needed to go onto the deck. This railing goes past the Sail and to the stern of the Diodon. It was mandatory to be secured if on deck.
An unhappy event occurred on another submarine in WestPac. A cook and a mess cook were throwing weighted garbage bags over the side from the sail door. They were NOT secured. A large wave came along and washed them both overboard. They were both lost at sea.
I was Qualified in Submarines now, August of 1967, as TMSN(SS). During our 55 day submerged patrol, I took my verbal qualification test in the aft part of the Forward Torpedo Room. I was asked to trace a drop of water, a drop of oil, a drop of ballast, a slug of air through the entire submarine and to tell where I could cross-connect what systems to do this and that.
I did so in such a cool and knowing manner, that the interviewing officer, LT Cooper (Engineering Officer) exclaimed that no one before had passed the test so quickly and thoroughly! And, I had qualified in about 5.5 months. vs. the regular 6 to 7 month qualification. You can tell I was one highly motivated non-qual!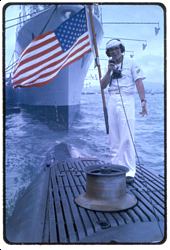 Here I am, Topside, in Hong Kong
We are about to depart Hong Kong in this photo. My maneuvering watch station was the After Capstan Operator. So, here I am. However, I had to be on station before the diesel engines started and through departure into the stream. That meant that when the diesel engines started and were beginning to warm up, I was enveloped with clouds of black diesel exhaust. Ah, Diesel Boats Forever!
SKSN(SS) Gibbons has used my camera to snap my picture. We had spent 3 days in Hong Kong. The communists had been tossing bombs into the streets before we arrived, and after we left. However, while we were there, not a bomb exploded.
Note the following in this photo: I have my SN stripes with a Torpedo over them, indicating that I am a Torpedomans Mate Striker, having gone to Torpedomans Mate "A" School. I am wearing the Dolphins indicating that I have Qualified in Submarines. I am wearing a sound powered telephone. I also had, though not in sight, a control for running the After Capstan
You can see the mud tank, from where I took the photo of the burning papers in Okinawa.
The flag waving behind me is on a flag post attached to the Stern Light.
You can see the After Torpedo Room Hatch coaming, a flat, smooth ring around the hatch for receiving a rescue bell in case we were sunk in shallow enough water for rescue. Both the After Torpedo Room and Forward Torpedo Room hatches had these rings.
Behind the Diodon is a British Royal Navy ship, rigged with lighting to detect saboteurs in the water at night.
The submarines I served aboard for USNR Active Duty
and Submarine Reserve Duty
USS Dentuda (SS 335) - SR, SA(SG), SN(SG), TMSN(SG): 1965 to 1967,
my Sub Div 12-31 Reserve Boat
SS-335 USS Dentuda - More information
SS-335 USS Dentuda - Still more information
USS Raton (AGSS 270) - SN(SG): Late in 1965, my 1st boat and without
pay voluntary Reserve 2 week duty local ops off Southern California
USS Raton SS/SSR/AGSS-270 Home Page
Memories and Thoughts on USS Raton's WestPac Cruises & Other Times
(new 02-05-02)
USS Rock (AGSS 274) - SN(SG): 1966, my 2nd boat Reserve 2 week duty
local ops off Southern California
USS Rock Home Page with WWII History
USS Rock Newsletter (new 12-12-01)
USS Rock - more information site (new 11-23-01)
USS Tiru (SS 416) - TMSN(SG): 1966, my 3rd boat Reserve 2 week duty local ops off Southern California
USS Diodon (SS 349) - TMSN(SG) to TM3(SS): boat I served on from 2/67 to 10/68 and qualified on - my 4th boat
USS Bluegill (AGSS 242) - TM2(SS): Late 1968, my 5th boat Reserve 2 week duty local ops off Southern California
USS Bluegill (AGSS 242) - more information
USS Razorback (SS 394) - TM2(SS): 1969, my 6th boat Reserve 2 week duty local ops off Southern California
USS Baya (SS 318) - TM2(SS): 1970, my 7th boat Reserve 1 week duty local ops off Southern California
USS Baya SS-318 Home Page (new 12-27-01)
USS Blackfin (SS 322) - TM2(SS): 1970, my 8th boat Reserve 1 week duty local ops off Southern California
USS Greenfish (SS 351) - TM2(SS): 1971, my 9th boat and last 2 week Reserve duty in Hunters Point Naval Shipyard, San Francisco, CA
---


Join now if you want your ownPlankOwners Home Page at NAVetsUSA
Get your "Navy Veteranof the United States of America" BusinessCards, Ball Cap and more
---
Send comments to NAVetsUSA
Founded by Edward C. Reese, NCCS, USN Retired
NCCM, New York Naval Guard